What's on Your Deck Materials List?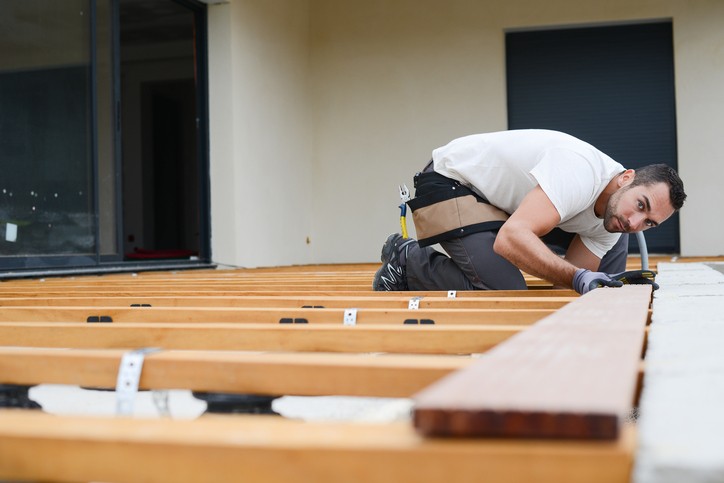 Building a deck on your home is an excellent decision. Not only does it increase the value of your home, but it also makes use of outdoor space and gives you plenty of opportunities to enjoy time outdoors. So, once you've decided on building your deck, what's the next step? It's important to know what deck materials you'll need for your project so there won't be any surprises once you start.
Choose the Style of Wood
There are so many choices out there nowadays when it comes to deck materials. Each one has different benefits depending on your needs and personal style. Here are a few of the most popular choices.
Pressure-treated lumber (PTL) is an economic choice and can be stained with an endless assortment of different shades. Most PTL is made from southern yellow pine and then chemically treated to resist fungus and bugs. The downside to PTL is that is can eventually crack, split or warp after many years of use.
Redwood or Red Cedar is a great choice for people looking to use natural deck materials. They both have a rich dark colour and aren't treated with chemicals or preservatives and are naturally resistant to rot and most bugs.
Composite is a choice quickly climbing to the top of the list of homeowners looking for a low maintenance deck. Composite deck materials are made from wood fibres and recycled plastic. They are extremely durable and weather resistant and will never fade, warp or crack which makes them a practical, economical choice.
Customize Your Deck
Once you've decided on the main components of your deck, now you can start expressing your personal style with the rest of your deck materials. There are several different accessories you'll need to decide on before starting your deck project. Here are some of the main ones.
Banisters and handrails can really help set the style for your deck.
Balusters are the skinny wooden (or composite) rods that are connected to the banisters and the surface of your deck.
End caps can be used to create stylish focal points for your deck. Out of all the deck materials to choose from, end caps probably come in the largest variety of options.
Lighting accessories can help add practicality and safety to your deck. From small lights on the stair risers to strategically placed lanterns on end caps, lighting can add a whole different dimension to your deck.
All the different choices when it comes to deck materials may seem overwhelming, but once you've made these decisions, you'll be on your way to creating the perfect deck for your home. Visit us today for all your deck materials needs.
REQUEST INFO FOR YOUR DECKING PROJECT