Trex Deck Builders: Tips on Planning Your Next Deck Build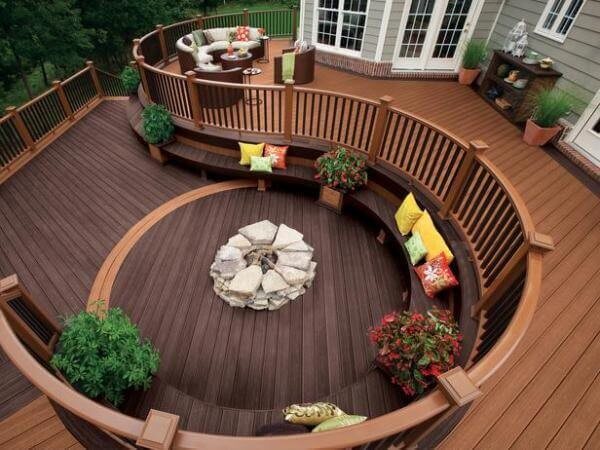 A great way to update your outdoor space and add value to your home is to install a deck. When choosing deck materials, composite is a great choice over wood. It's built to be stronger and more durable than wood and you'll never have to stain or paint. A simple soap and water wash annually are all you need to keep your deck looking brand new. Trex Deck builders have many advantages that make them stand out from the rest when choosing composite for your next deck build.
Such as:
No Splitting, Swelling or Fading
No Splintering
Eco-Friendly Materials
25-year Limited Warranty
Mold and Mildew Resistant
Scratch Resistant
Stain Resistant
Wide Variety of Wood-Inspired Colors and Styles
So now that you've selected your decking materials, what do you do now? Here are some tips for from Trex Deck builders have for starting your new deck.
Permit- Find out your local building codes and get a permit right away if needed. You'll want to make sure your deck is up to code and safe for your family and friends. Also, if you sell your home later and the deck is not up to code, it could be a deal breaker, or at least cause you expensive repairs or removal.
Location and Design- Once you've decided on a location for your deck and made sure it will work well with local building codes, make sure you have a well thought out design prepared for your deck. A big project like a deck should always be planned out in detail before you begin to cut down on surprises and problems. The professional Trex deck builders could certainly help you with this.
Create a solid base- A solid base is essential for a sturdy safe deck.
Make sure you have a level ledger- Ledgers are large beams that will be connected from your deck to the structure of the house.
Square the support frame- Accurate measurements are essential to having a proper support frame.
Choose your fasteners depending on your board choices- Composite decking materials have the option of using invisible fasteners that will create a seamless look.
Board Spacing- One of the many advantages of using composite boards is you don't have to worry about warping. You do however have to keep spacing in mind since weather and time will make the boards expand and contract.
Whether you're an experienced Trex deck builder or this is your first DIY big project, Trex deck builders will give a quality, stylish, safe deck that you and your family will enjoy for years to come. Come talk to a Trex deck builder at The Deck Store Edmonton today to get advice from our professionals so you can get started on your new deck right away.
REQUEST INFO FOR YOUR DECKING PROJECT