The Pros and Cons of Cedar Wood Decking Material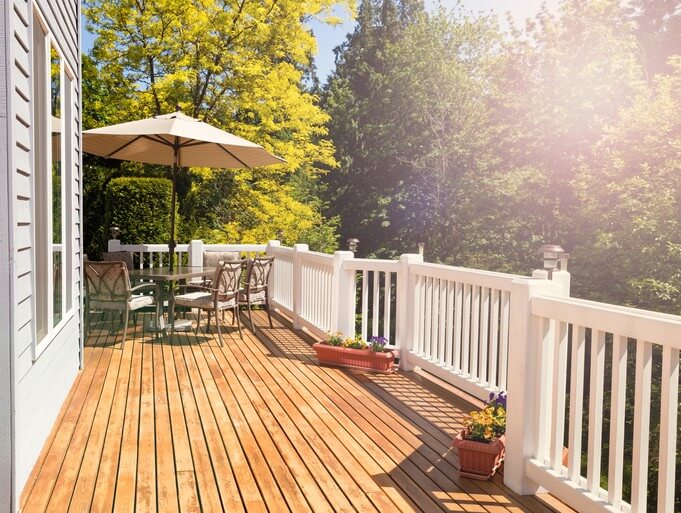 When building a new deck or porch for your home, there are several things to consider. Size, shape and location are all factors that go into your new project, but one of the most important decisions to make regarding your new deck is what materials to use. Nowadays there are several different options. You could use composite decking boards that are made from recycled materials instead of natural wood. Or you could go with a more traditional look with cedar wood decking. What's the difference? Both materials have several advantages and disadvantages, depending on your needs. Let's take a closer look.
Composite Decking
Composite technology has come a long way in recent years and because of its durability and low maintenance, has become a top choice of homeowners for decks and porches.
Advantages:
Textured to look and feel like real wood
Resistant to fading and staining
Insect Resistant
Never has to be sealed, stained or painted
Long lasting and durable
Disadvantages:
Expensive- Composite boards can cost up to 5 times as wood
Not real wood- No matter how authentic the wood look is, there's no changing the fact that is not real wood
Some types of composite need specific fasteners for installation
Cedar Wood Decking
Cedar has always been a popular choice for decking materials because of its distinctive colour, look and smell.
Advantages of Cedar Wood Decking:
Won't warp because of moisture
Naturally resistant to insects and rot so no chemical treatment is necessary
Requires less maintenance than other types of wood
Resistant to temperature and weather conditions
Doesn't need to be stained
Disadvantages of Cedar Wood Decking:
Cost- Just like composite, cedar can be much more expensive than other wood.
Fades to a weathered grey over the years, which can be a drawback to some people.
Although both composite and cedar wood decking materials can be expensive compared to other wood, they are worth the extra price. Both are low maintenance materials, so the extra cost may seem excessive at first, but will save you hundreds and even thousands of dollars over the years since no expensive maintenance or repairs are needed. Be sure to consult with the professionals at both the Deck Store Edmonton and Calgary locations for all your deck questions. Come browse all our options of cedar wood decking, today!
REQUEST INFO FOR YOUR DECKING PROJECT