The Advantages of Composite Deck Designs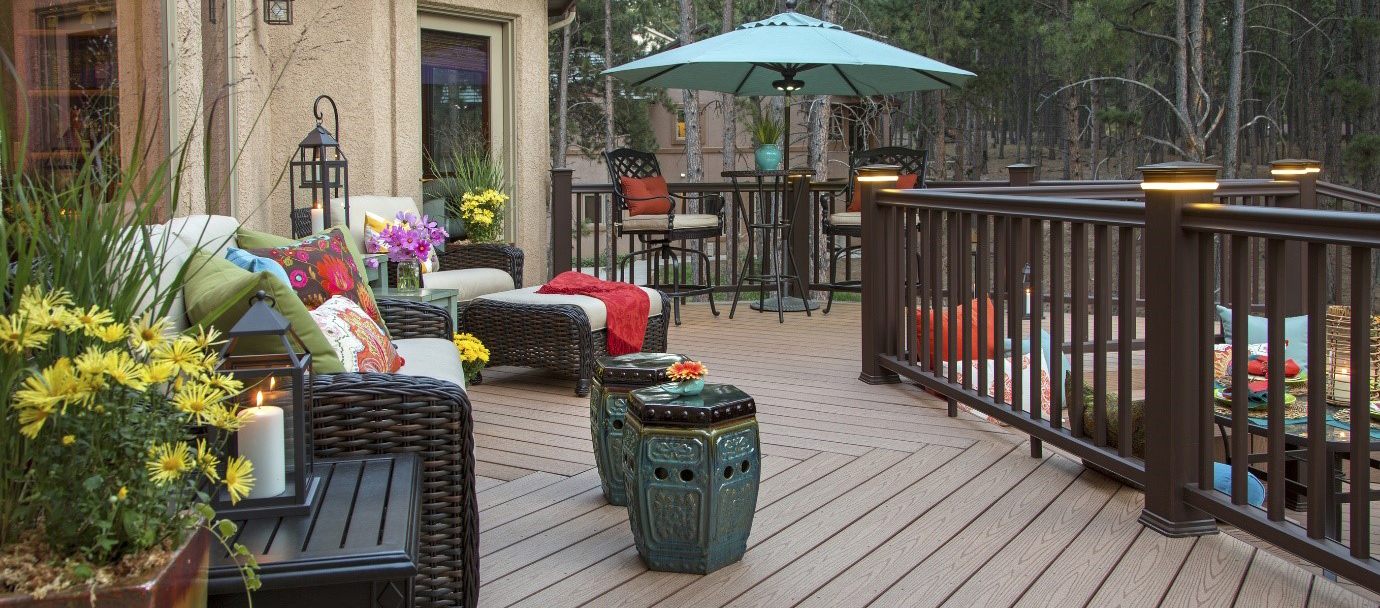 We all love beautiful deck designs in Edmonton. The kick starter to every deck design process is the decision on the building material for your deck. Off the top of your head, you may go with wood; but times have changed, and new technologies are enabling homeowners to have more reliable and environmentally friendly materials. Welcome to the era of composite deck designs in Edmonton. So, why are the composite deck designs the only sustainable option in Edmonton? Well, here are the Advantages of Building Your Deck with Composite Material:
Low Maintenance
Composite deck designs address the biggest concern of wood decking; it requires a lot of maintenance. The time and money spent sanding and staining a wood deck are better spent with loved ones. Caring for a composite deck only requires a gentle scrubbing with water and dish soap twice annually depending on the amount of foot traffic on it.
Long Life Span
With proper maintenance, your composite deck design will be as good as new for about 30 years. However, they can last up to 50 years if every care is taken to preserve the deck. In case you have any questions on how to care for the deck, your supplier should be able to help. In comparison to the wood alternative, the composite deck designs will not warp or fade as temperatures fluctuate. Additionally, the composite decks are not susceptible to rot and pests.
Imitates the Looks of Wood
In addition to the unmatched qualities of composite deck designs, you can still enjoy the natural beauty of wood. With a professional decking material supplier, you can have the choice to choose between wide range natural hues. You can also match your deck colors to the exterior color scheme of your house.
Safety
This is an issue of concern for many households in Edmonton. You do not want your children to step on wood splinters which are common on a wooden deck. In addition to having no splinters, the Composite Deck Designs are slip-resistant which makes them the best deck solution for your pets, children and elderly family members.
Environmentally Friendly Choice
As you already know, wood decks mean that trees need to be harvested to make your deck. At a time when the effects of climate change are starting to bite, it is only right that you take every step possible to conserve the environment. Composite decking materials are made from wood scraps and plastic which actively cleans the environment and prevents further environmental degradation.
Increases the value of your home
The value of your home is bound to increase when you use quality material that is durable and requires little to no maintenance. Even though the initial outlay for a composite deck design may be high, look at the long-term play. Within a decade or so, you will have spent more on maintaining the wooden deck.
A quality deck is an investment worth the money which is true of composite deck designs. With a wide range of exotic colors to choose from, you do not have to comprise on your taste in style. You also get a quality deck that is durable, resilient and appealing to the eye without a single tree falling. With a composite deck design in Edmonton, you will transform your outside living space into a spectacular deck that you and your family will enjoy for decades to come with very minimal maintenance.
Contact us for more info on composite deck designs in Edmonton or Calgary.
REQUEST INFO FOR YOUR DECKING PROJECT