How Well Will Your Deck Materials Stand Up to Our Harsh Edmonton Winters?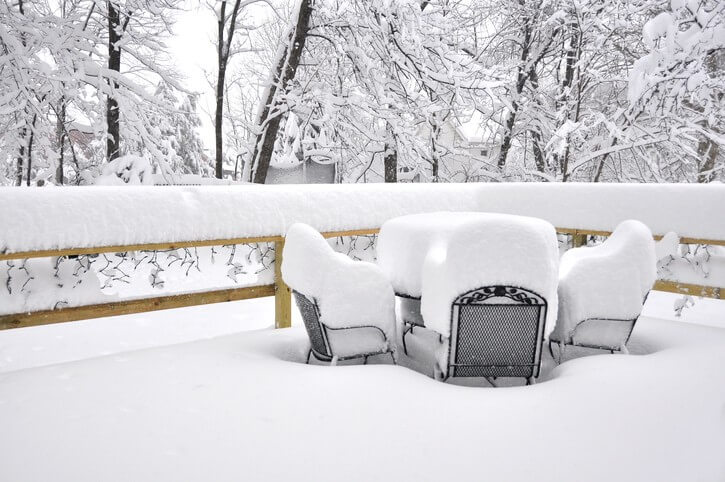 When you live in an area that gets as cold as Edmonton in the winter, it's important to plan ahead. We prepare our homes and our cars for the harsh cold months, but do we prepare our decks? By choosing the appropriate deck materials for cold climates, your deck will be able to withstand anything an Edmonton winter can throw at it. Let's look at the benefits of the most popular deck materials.
Pressure Treated Lumber
Although pressure treated lumber or PT Lumber is the most economical choice of the available deck materials, it can be the trickiest to maintain in harsh winters. It tends to warp and crack in extremely cold temperatures, so lower maintenance materials are becoming more popular in areas like Edmonton. If you do have a wood deck, there are a few simple steps you can take to help prepare it for the winter.
Give Your Deck a Deep Clean: When the fall creeps in and the weather starts to cool down, it's a perfect time to give your deck a thorough clean to prepare for the winter. If your deck is made of wood, it's especially important to get rid of ground in dirt and grime that could lead to corrosion. A bleach-free cleaner is always best to use on wooden deck materials.
Apply a Protective Finish: After you've finished deep cleaning your deck, it's best to apply a water-resistant finish to protect it from the sleet and snow. If the moisture can penetrate the wood, it can cause it to crack and warp. There are several different finishes available for winter protection, be sure to ask the experts at The Deck Store for suggestions.
Composite Decking
Composite is quickly climbing the list of the most dependable cold weather deck materials. Since it's made of both wood and plastic fibres, it makes for an extremely durable deck. Composite is essentially maintenance free and can withstand large amounts of snowfall in the winter as well as extremely low temperatures. Although it has a higher price point, it will end up saving you money overall throughout the life of your deck.
Galvanized Steel Hardware
No matter what deck materials you choose for the main structure of your deck, galvanized steel is the best choice for the hardware you use. It is weatherproof and will never corrode, no matter the conditions or temperature.
If you have any questions about your specific deck materials or how to prepare your deck for a cold Edmonton winter, be sure to come down to The Deck Store today.
REQUEST INFO FOR YOUR DECKING PROJECT