How Composite Decking Can Add Value to Your Home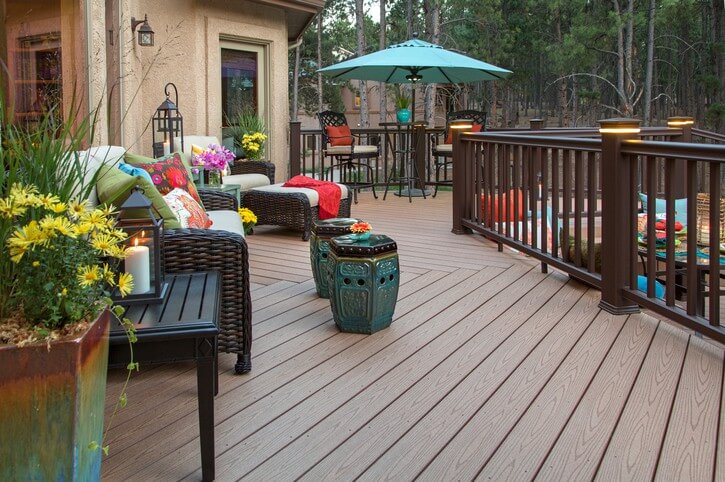 A great way to add value to your home while updating your outdoor space is to add a deck. Wood decks can be expensive and hard to maintain, which is why more and more people are choosing to use composite decking materials instead of wood for their outside projects.
What is Composite Decking?
Composite is a material made from recycled wood fibers and recycled plastic. The materials are made on a wood grain mold, making the finished product mimic wood in every way. Composite comes in a wide variety of wood-inspired colors and styles, so you're bound to find something perfect for your deck. Not only will it look amazing, since its made from recycled materials, you can feel good knowing you're helping to keep the planet green.
Will it Last?
A deck made with composite materials can last decades, in fact, most companies have 20+ year warranties for their composite decking materials, and some will even transfer warranties over to a new homeowner. Composite will never crack, warp or splinter, so you can be sure your deck will look brand new year after year.
How Do You Maintain Composite?
Composite decking never needs to be sanded, sealed, stained or painted, saving time and money. An annual soap and water washing is all that's needed to keep it looking brand new. So, you can spend your time enjoying your deck instead of maintaining it.
Is it Expensive?
Compared to wood, composite decking materials are much more cost effective. The average price for composite is $2-4 per linear foot. You also have to factor in that you will never need to purchase expensive cleaning materials, stain or paint for the life of your composite deck.
Is Composite Hard to Install?
Composite boards are designed to be more lightweight than wood, so they are easy to manage whether you're an experienced builder or an occasional DIYer. They are installed using the same tools as wood and many new composite decking materials use a "hidden clip system" which makes them easy to fasten and create a seamless look.
Is it Family Friendly?
Composite decking is slip resistant and splinter-free, making it a perfect choice for kids and pets. This also makes it a great choice for decks built around pools. You can have peace of mind knowing your kids can play safely, even with bare feet.
For all these reasons, composite makes an excellent choice for your new or replacement deck. Not only will you recoup the cost of your investment, but some homeowners can expect as much as a 62.8% return on their investment on a composite deck. Come out to The Deck Store's Edmonton location to browse all your options for your beautiful new composite decking, today!
REQUEST INFO FOR YOUR DECKING PROJECT