Finish Your Deck with Deck Skirting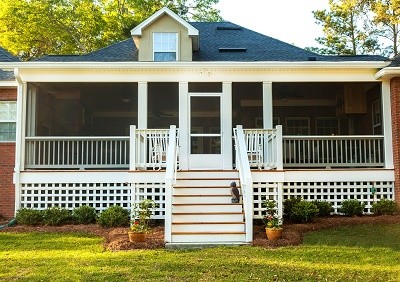 Deck skirting can be added your deck to finish the edges of your deck, hide the support joists, and also create an underneath space for added living room or storage. Your ground-level plants and lawn ornaments will pop in contrast to a brightly coloured deck skirt, but even without greenery to showcase, skirting can increase the curb appeal of your home in a big way; take a look at these examples:
And for those of us with skunks, cats, or porcupines in the area, deck skirting can help keep those critters out!
Lattice
You've seen it everywhere: Wood lattice is the most common choice when it comes to deck skirting because it's inexpensive and easy to work with. You can paint or stain wood or vinyl lattice to help it stand up to weather and boost its curb appeal.
Putting up some lattice is quick work. You'll be done in a couple of days, but there is a downside: the individual pieces that make up the lattice aren't very durable and they're hard to replace when damaged.
Composite
If you've used composite deck boards to build your deck, composite deck skirting is the best choice for maintaining continuity in style.
That said, there's no rule saying your decking and deck skirting need to match! You can get creative with this material: install boards tight together, leave small spaces between, install them vertically OR horizontally, work in some lattice portions, install stone or brick supports at intervals, alternate colours, or whatever you can think of!
Composite decking is made of wood fiber and plastic, so it will last a lot longer and it is more durable than the wood lattice option.
Brick
Although not as common out here in Alberta as it is in Eastern Canada, brick deck skirting is also an option. The warm, earthy look of brick deck skirting can really complement a Tudor or Cape Cod-style house, but between materials and labour, they can be a costly choice. You can always do a combination of brick with other types of lattice and still pull off a stunning look while saving some money.
Faux Stone
Want a real statement piece? Skirt your deck with faux stone. Unlike with brick, you don't need to hire a mason, and it comes in many styles like river stones, stacked stone, brick, and more. Stone looks rustic and natural, so it's a great complement to a wood (or composite decking in a natural wood shade) deck or house. Faux stone looks amazing, but it's also durable, non-toxic, and maintenance free.
Things to consider
Avoid an "Oops" moment when installing deck skirting:
Gates: You're going to need access to the underdeck. (Trex makes gates)
Ventilation: You don't want things rotting under there, so make sure there is adequate ventilation.
Repairs: buy some extra deck skirting material to keep on hand for repairs.
REQUEST INFO FOR YOUR DECKING PROJECT