Avoid the HassLE of Re-Staining or Replacing Your Deck by Installing Composite Decking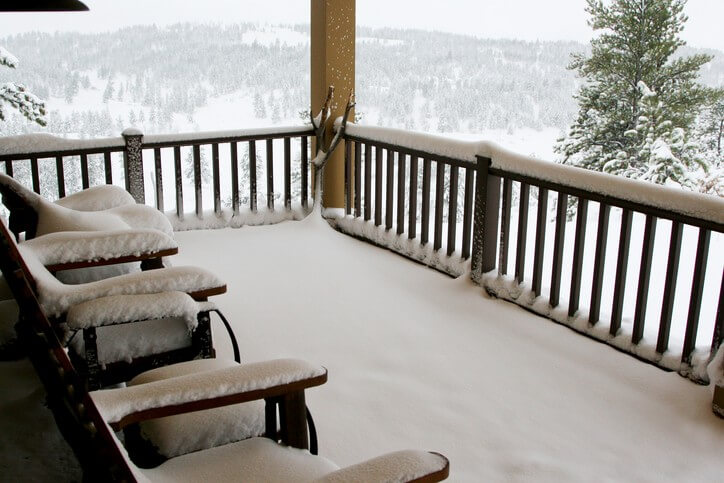 A deck is a great thing to have in the Summer. Having a place to hang out and enjoy the sun with your family and friends from the comfort of your own home is priceless. But dealing with protecting your deck for the harsh Winter months is not priceless. Not only can it be costly, but it can be time-consuming as well. Cold weather and moisture can cause wood decking to peal, warp and crack. So, a wood deck needs regular restaining and refinishing to protect it from the cold months. That is why composite decking has become more and more popular for homeowners in recent years. Composite decking can save you time and money and retain its look and durability through the most extreme Calgary Winters.
What is Composite Decking?
Composite materials are made from recycled plastic and wood fibres, making it extremely durable and sturdy. It has the natural appearance of wood and comes in a wide variety of different colours, shades and styles.
What Makes Composite Decking More Durable Than Wood in the Winter?
A deck made from composite is moisture resistant and is not affected by extreme temperatures. No matter how much snowfall there is, nothing will penetrate the surface, meaning no warping or cracking like natural wood. It is still important to keep your deck clear of ice and snow for the safety of your family and friends. If using salt to de-ice your deck, you won't have to worry about it dulling the surface.
Does Composite Decking Need to Be Re-Stained or Resurfaced?
A deck made from composite materials never needs to be re-stained or resurfaced, meaning it will retain its original colour and appearance throughout its life. Composite decking can last upwards of thirty years, meaning you'll always have a stylish looking deck free of the wear and tear that wood tends to collect. There's no need to apply a protective treatment on composite decking to prepare for Winter, so you can enjoy your deck maintenance free up until the last warm night of Summer.
You may pay more for a composite deck initially than you would for natural wood, but since you will never need to pay for maintenance, repairs or Winter preparation, you will save money over the life of your deck. The Fall is a great time to install your new deck, so you are ready to enjoy it as soon as the weather warms up. Come out to The Deck Store today to browse all your composite decking options.
REQUEST INFO FOR YOUR DECKING PROJECT